Clinical proof


Researchers have shown lutein is also deposited throughout human skin, delivering multi-faceted activity, including antioxidant benefits, to skin cells.

Compelling research findings from a randomized, placebo-controlled, human clinical trial performed in Europe illustrated several important benefits in skin from oral intake of lutein. (Palombo, P., P. Morganti, et al. (2006). "New evidence for efficacy of lutein/zeaxanthin in skin health. Beyond Beauty Paris 2006 Conference Abstract.) The complete report can be reviewed in the file attached below.

Study participants taking 10 mg of an oral supplement containing Lutein daily for 12 weeks showed measurable increases in skin hydration and skin elasticity, and a decrease in skin lipid peroxidation. Lipids are oily components within the skin critical to healthy skin appearance. Furthermore, they provide a barrier function that slows the loss of moisture in the skin. Lutein used in a topical preparation applied to the skin also showed significant improvements in these categories, and when combined with oral lutein supplements, generated even greater results than oral or topical lutein separately.

A table showing the specific results is below. All results are adjusted for placebo.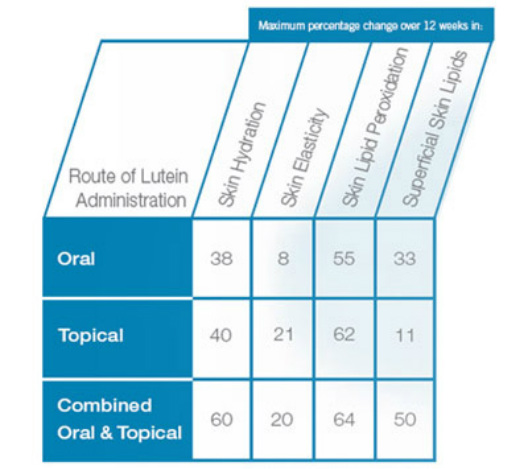 A short video detailing the study can be viewed at http://youtu.be/3nFQC8qTy9A - just click on the table.